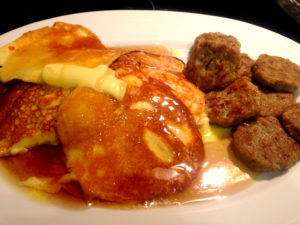 4 oz Cream Cheese
4 tablespoon almond flour
1/2 teaspoon of baking powder
2 tablespoons of sugar free sweetener
4 eggs
2 tablespoons of almond milk
Method:
Blend all ingredients together. Heat a lightly oiled griddle or frying pan over medium high heat. Pour or scoop the batter onto the griddle, using approximately 1/4 cup for each pancake.Brown on both sides and serve hot.