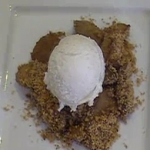 I love this low carb apple crisp! I will be making it for my guest on Thanksgiving and wanted to share it with you all.
The main ingredient is Chayote and it will be the ingredient we use for the apples. I grew up eating Chayote (Christophene) in salads and low-mien and other dishes. Chayote has a mild apple flavor and with the help of the apple pie spice it makes this dish my new favorite low carb desert. So I hope you all enjoy this recipe.

Chayote Squash Apple Crisp
Crust
1 cup  Bob Red Mill Almond flour
3/4 cup carbalose flour
1/4 cup oat fiber
1/2 cup pecan
1/2 tsp cinnamon
1/4 cup Splenda brown sugar blend
6 tablespoon butter
Chop the pecans in the food processor then add the Carbalose flour,  Almond flour, Oat fiber, Cinnamon and Sugar.
Add the butter and pulse until mixture becomes like fine breadcrumbs.
Set aside.
Pie filling.
4 Coyote squash
1 cup Old Orchard Healthy Balance Apple (sweetened with splenda)
3 tablespoons brown sugar splenda
1 tablespoon apple spice
1/2 tsp nutmeg
1 teaspoon cinnamon
1/2 tsp xanthan gum
Method:
In a saucepan over medium heat add the apple juice, Splenda, apple spice, nutmeg, and mix.
Add the Chayote and bring to a low bowl for about 15 minutes.
Add the Xantum gum and mix until thicken. Remove from the flame.
Pour the apple mixture in a dish add the crumb mixture to the top.
Bake at 400 degrees for about 25 minutes.