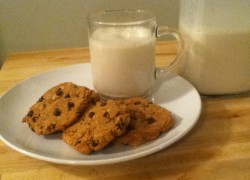 Here is another recipe using raw almonds. In a prior video, I made almond milk with raw almonds, and in this video I am using the almond pulp left over from making the almond milk to make almond cookies. I love that I can use the whole nut to create so many different recipes without wasting any part of it.
These almond pulp cookies are very tasty! They are more dense than regular chocolate chip cookies and are quite filling. My hubby really loved them. They are not overly sweet, but if you have a sweet tooth you can add more sweetener to your liking. I would suggest that you taste the raw cookie dough in order to gauge  whether  the level of sweetness is to your liking.
I was unable to calculate a true carb count for this recipe because I am not using the whole almond in this recipe. I can only give the carb count for the added ingredients in this recipe.
This recipe will be fun to make with kids. I think they will enjoy making the milk, and may even be fascinated by the thought of making cookies from the byproduct of the milk.  Sweet!
For this recipe I used the wet almond pulp that was derived from straining off the milk. I really enjoyed creating this recipe and I hope it is something that you and your family will enjoy making. Here is the recipe:
Almond Pulp Cookies:
1 cups of almond pulp
2 tablespoons of oat fiber 500
1/2 teaspoon of baking powder
1/4 teaspoon salt
1/4 cup of peanut butter (no sugar added)
2 tablespoons of flax seed meal (ground flax seeds)
1 teaspoon of ground cinnamon
1/4 cup of shredded coconut (unsweetened)
2 tablespoons of sugar free chocolate chip
2 tablespoons water
Using the (S) blade of the food processor, pulse the almond pulp, oat fiber 500, baking powder, peanut butter, flax seed meal, cinnamon and shredded coconut together until a dough is formed.
Pour the dough into a medium bowl. Add water, chocolate chips, and then combine.
Spoon the dough mixture unto a parchment lined tray. Flatten with the back of a spoon. If the dough becomes to sticky to handle, wet the back of the spoon with water and continue to form it into round cookie shapes.
Bake 15-20 minutes
Makes 11 Cookies
Nutritional value for the ingredients in this recipe, excluding the almond pulp.