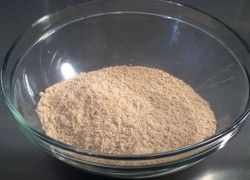 In this video I demonstrate how to make homemade almond meal(flour) out of  left over almond pulp. I am using the left over almond pulp from making almond milk. I kept the almond pulp refrigerated for a day until I was ready to make the almond meal. If you are not going to use the almond pulp within a day or two, I would strongly recommend freezing the almond pulp until you are ready to make almond meal (flour).
This was so easy to make. You must dry the almond pulp before making almond meal. There are two ways you can dry the almond pulp. You can use a food dehydrator or you can use your oven.
Drying Almond Pulp Using a Food Dehydrator:
Place the wet almond pulp into the  lined dehydrator tray.
Spread the mixture out to promote even drying.
Dehydrate at 115 degrees until completely dry.
Note: My almond pulp took 12 hours to dry, using my food Dehydrator.
Drying Almond Pulp Using An Oven
Turn the oven on using the lowest temperature  setting for baking.
Line your oven tray with parchment paper. Spread the almond pulp onto the parchment paper.
Dry until done (about 3 hours)