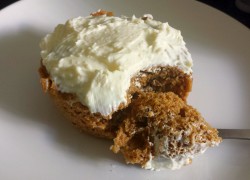 Whenever I am in a rush and need a quick fix for breakfast, I whip up a Muffin in a minute. This muffin is filled with fiber from the flax seed meal and will keep you filled up for a long time. This will also be great as a dessert to satisfy a sweet tooth.
1/4 cup Flax Seed Meal
1/2 teaspoon Baking Powder
1 teaspoon sweetener ( can add more to your liking)
1/2 teaspoon Cinnamon
Pinch of Nutmeg
1 Egg
1/2 tablespoon unsalted Butter, melted
Method:
In a microwave bowl, add the dry ingredients and mix to combine. In another bowl whisk the eggs. Pour the beaten egg into the dry ingredients. Then Add the melted butter and combine.
Add the egg and the butter. Combine the mixture until uniform. Microwave for 1 minute. Done! Top with cream cheese topping, recipe below.
Cream Cheese topping:
1 oz of cream cheese (softened)
1 to 2 teaspoon of sugar free sweetener
1/2 teaspoon of lemon juice
Mix all ingredients together and spread over muffin.
Nutritional Information for Muffin only listed below: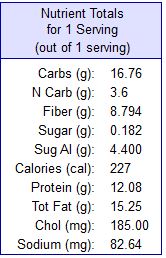 With cream cheese topping: