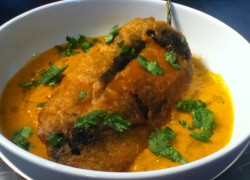 I must admit that this recipe is a bit time consuming, and so worth the effect making it. I would suggest making the sauce a day prior to making the peppers. I will be making this again on Sunday for Cinco de mayo. This recipe is also Induction friendly!
Chili Relleno sauce
6 Roma tomatoes
1 cup of water
1/2 medium white onion
2-3 cloves of garlic, (crushed
1 medium Serrano chile
1 teaspoon of salt
1/2 teaspoon roasted cumin
1/2 teaspoon oregano
1/8 tsp of black pepper
4 Poblano peppers
8 0z monterey jack cheese- (2 oz for each pepper)
4 large eggs, separated
pinch of salt
Oil for frying
Directions:
Please see video above.