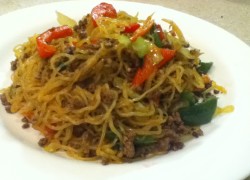 2 packs of Miracle Noodle angel hair pasta
1/2 teaspoon better than bouillon chicken flavor
A dash of Badia Amarillo Yellow Coloring
1/2 lb of ground beef
1/4 teaspoon salt
1 cloves of garlic (sliced thinly)
1/2 inch grated fresh ginger
1/2 medium onion (chopped)
1/2 medium red bell pepper pepper
1/2 medium green bell pepper
1/4 cups shredded cabbage
1 1/2 tablespoons of soy sauce
1 teaspoon of sesame oil
2 green onions- thinly sliced
Method:
Rinse the Miracle Noodle angel hair pasta over cold water and drain. Microwave the pasta with 1/2 teaspoon of better than bouillon chicken base, then drain off the excess liquid using a fine mesh stainer. Add the Badia spice coloring and mix it in until all of the noodles are a uniform yellow color.
Brown the ground beef for about 5 minutes and add in the onions to cook 2 more minutes with the beef. Add the peppers, the cabbage, and cook 2 minutes more. Add the salt, then add the soy sauce, and the sesame oil to mix in. Then add the miracle noodles, combine, and top it all with the green onions.