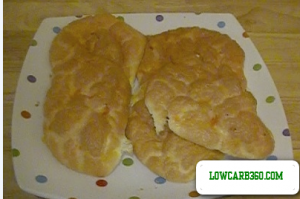 I have made the Atkins revolution rolls, and while they were OK I knew I could improve upon that recipe to add better texture and a lot more taste, so I present to you " Jay's Low Carb Croissants".  These are so yummy and I love the texture, so much like regular Croissants.
Ingredients:
4 Egg Whites
1/4 tsp cream of tartar
3 Egg Yolks
1 Tsp Mrs Dash (original blend)
1 cup Shredded Cheddar Cheese
1 scoop of 365 Brand vanilla whey protein shake (from whole foods) mix with 1/4 water
1 Tablespoon Mayonnaise
Method:
To the egg yolks add the  Mayonnaise, Mrs dash, cheddar cheese and the vanilla shake and mix until uniform.
To the egg whites add the cream of tartar and whisk using a mixer as shown in the video.
Add the egg yolk mixture to the egg whites and fold in the mixture.
Using a large spoon, spoon mixture out to a try lined with parchment paper.
Bake for 35 minutes at 300 degrees
Turn oven off and leave in oven for another 5 minutes.
Then remove croissants and place on a wire rack to cool.
Let cool for about 10 minutes before eating.
This mixture will make 6 large croissants, Enjoy!