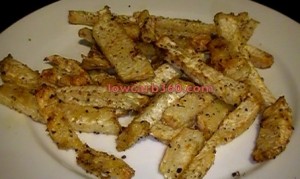 Today I made low carb french fries. It was so yummy and similar to french fries that the only difference I noticed is that the celery root is a little more chewy with a snappy taste to it. The celery root is very low in carbs and an excellent substitute for potatoes. It is a little pricier and the only place I could find it was at the Whole Foods Store.  This really curbs my craving for french fries. I hope you enjoy.

Nutritional Values for Celery Root:
According to information on about.com here are the stats:
1 cup raw (100 grams) – 7 grams of carbohydrate plus 2 grams fiber
Here is what the vegetable looks like (very unattractive, I know)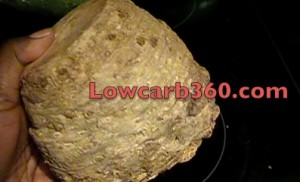 Ingredients
8 oz celery root
1 tablespoon Original Mrs Dash
1 Tablespoon of Olive oil
Method:
Peel wash and slice the celery root into french fries.
In a dish pour the olive oil and Mrs dash over the celery root and mix in.
Bake at 400 degrees for 30 minutes. Serve with sugar free ketchup
Here is the Video : )