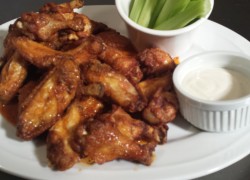 Oh how I love wings! If you are subscribed to my facebook page , you may have noticed many of my previous posts on facebook to  include chicken wings. Here is my other chicken wing recipe for garlic parmesean wings  . Any one of these will be a guaranteed hit at any Super bowl party.
Wings and Seasoning
2lbs of chicken wings (cut into half, tips removed)
2 teaspoons of Paprika
1/2 teaspoons of black pepper
1/2 teaspoons of cayenne pepper
1/2 teaspoons of salt
Peanut Oil for frying
Add the wings to a bowl. Season with the paprika, black pepper, cayenne pepper and salt. Refrigerate for 30 minutes. Heat the fryer to 375 degrees F. Fry the wings in batches, turning as needed until cooked through to a deep golden brown, about 15 minutes. Drain on paper towels.
Wing Sauce
6 tablespoons of butter
4 tablespoons of franks hot sauce
1 tablespoons of tabasco sauce
1/2 teaspoon of garlic powder
1/2 teaspoon of cayenne pepper
1 tsp of white vinegar
1/2 teaspoon of Worcestershire sauce
1/2 teaspoon of sugar substitute.
Add all the ingredients to a sauce pan. Heat over medium heat until butter melts. Heat for 5 minutes longer until sauce thickens. Pour sauce over the wings and serve with celery and your favorite dressing. Enjoy!