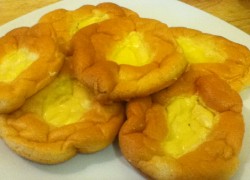 So, as you all know I was down the Jersey shore about a month ago. I had a fantastic time. My sister who came along, would always have cheese danishes for breakfast. I will admit to only having a bite.  They were out of this world. I knew immediately that I had to create a low carb version of these danishes. So today, I present to you my recipe for low carb cheese danishes! Enjoy: )
Cream Cheese Filling:
4 oz of cream cheese
1/4 cups of truvia * or Diabetisweet sugar substitute
1 egg yolk
1 teaspoon lemon juice
1/2 teaspoon vanilla extract
Grind the truvia using a magic bullet or other similar device. In a medium bowl using a hand mixture, whisk together the cream cheese, truvia, egg yolk, lemon juice and vanilla extract. Set aside.
Making the pastry:
4 large eggs ( whites and yokes separated)
1/4 tsp cream of tartar
3 oz of softened cream cheese
1 tablespoon coconut flour ( I use Bob Redmill Brand)
2 tablespoons truvia (ground in the magic bullet or other device)
1/2 teaspoon cinnamon
Separate the egg whites from the egg yolks. Set aside one egg yolk for the cheese filling listed above. Add the cream of tartar to the egg whites. Whisk the egg whites into stiff peak (Took me about 4 minutes). In a separate bowl add the egg yolks, cream cheese, coconut flour and cinnamon and mixture together. Fold the egg yolk mixture into the egg whites mixture until combined. Place the mixture into a  muffing top pan lined with parchment paper. Spoon the filling mixture into the center of each danish. Bake at 300 degrees for 25-30 minutes.
Makes 10 Danishes
* I prefer using diabetisweet with this recipe, I found that truvia was still too grainy even after processing in the magic bullet.