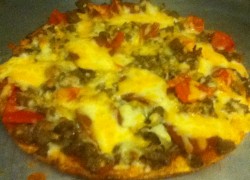 Today's pizza was so good I could not wait to share the recipe in a video, so the video will come later (see how much I love you guys). I held the crust in my hand while eating, which in itself was a treat when it comes to low carb pizza. Can you believe it's induction friendly pizza? Here is the recipe with visuals of each step.
Deep Dish Low Carb Pizza
For Crust
8 oz of Grated Mozzarella Cheese
4 eggs
1 teaspoon Italian seasoning
Spray frying pan with oil based spray. In a medium bowl, whisk the eggs then add the mozzarella cheese and mix together. Add the egg cheese mixture to the heated frying pan. Allow to cook over medium heat until the top of the mixture is slightly firm. Place the pan with the mixture directly into the oven (at 375) degrees and bake for 5- 8 minutes. Remove from oven.
For the topping
2 oz sausage meat
10 pieces pepperoni
2 tablespoon chopped onions
2 tablespoons chopped red peppers
1/2 cup marinara sauce
1/2 cup of Mexican four cheese blend
In a fry pan, add the sausage meat and allow to brown. After 8 minutes add the onions and cook 2 minutes more. Add the green peppers and cook for 2 minutes. Pour the marinara sauce over the pizza and spread to cover the entire surface. Top with pepperoni then the sausage mixture. Top with the cheese. Bake at 375 for 10 minutes or until the cheese is melted.
Finished No Dough Pizza
Serves 4 When eaten with a salad.