I love coconut Shrimp! Hope you enjoy this one as much as I did.

14 large Shrimp (peeled and divined)
1/4 cup coconut flour
1/4 tsp black pepper
1/2 tsp Cayenne pepper
1 tsp salt
2 eggs
For the last coating
1/4 cup unsweetened shredded coconut
1/4 cups Almond flour
Method:
In a bowl mix together the coconut flour, black pepper, salt and Cayenne pepper and set aside.
In a separate bowl beat the 2 eggs and set aside.
In a third bowl mix together the almond flour and the unsweetened coconut
Now that you have created your work station,
Take the shrimp and dip in the first bowl then the second and lastly the third.
Completely bread all the shrimp before frying.
Once you have breaded the shrimp sit in the refrigerator until you are ready to fry.
Deep fry in coconut oil for about 4-5 minutes until the shrimp is no longer pink.
Enjoy with the dipping sauce of your choice.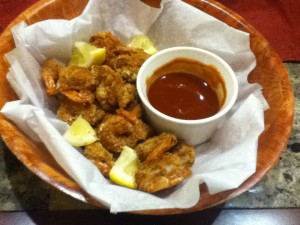 My dipping sauce is one that we use in Trinidad when eating fried shrimp.
2 tablespoon sugar free ketchup
1 tablespoon soy sauce
1 tablespoon hot sauce of your choose (or according to taste and tolerance)
1 tsp mustard
Mix together and enjoy with shrimp