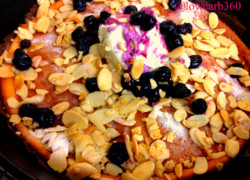 I love dutch baby pancakes! My recipe tastes like the real deal, without the extra carbs of traditional flour. I purchased the mascarpone cheese at Trader Joe's my favorite food store. The mascarpone cheese is also used to make the best low-carb icing. The recipe for the low-carb mascarpone cheese icing is listed below. I hope you enjoy~
Ingredients
1/2 Cups Carbquik
2 Tablespoons Of Swerve Confectioner Sweetener
1/4 Cup Heavy Cream
1/4 cup Almond Milk
4 Eggs
1/4 Tsp Grated Nutmeg
1 Teaspoon Of Vanilla
1 Tablespoon OF Fresh Squeeze Lemon Juice
2 Tablespoons Of Mascarpone Cheese
1 Tablespoon Of Butter-For greasing the cast iron pan
Place a cast iron skillet on the middle oven rack to preheat in the oven at 400 Degrees.
Add all the remaining ingredients to a blender and blend until combined.
Carefully remove the cast iron pan from the oven and add the butter making sure to grease the sides of the pan with the butter.  Add the liquid batter to the cast iron pan and bake for 15-16 mins. Remove the pancake from the oven and top with a sprinkle of lemon juice and powdered swerve sweetener.  You can add toasted almonds as I did in the video and mascarpone Cheese Icing (Recipe Below).  Fruit of your choice can be added. Very delish!
Mascarpone Icing
1/2 Cup Mascarpone Cheese
2 Tablespoons Swerve + a shake of Stevia
1/2 tsp of Lemon Essence
The Mascarpone Icing can be made ahead of time.