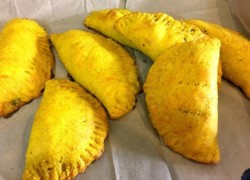 I love Jamaican beef patties. On my recent trip back home to Trinidad it was one of my guilty pleasures. It is with great joy that I can present a low carb version of this recipe that mimics the real thing. You will love these meat patties, they are so flavorful and delicious.
Meat Filling
2 tablespoons butter
1 lb ground beef
1 small onion (minced)
1 green habanero pepper (can omit if you want a milder patty)
2 minced garlic
1 teaspoon dried thyme
1 tablespoon curry powder
1 teaspoon salt
1/2 teaspoon blackpepper
1/2 teaspoon of all spice
2 Bay leaves
1 tablespoon ketchup
1 tablespoon Worcestershire sauce
3/4 cups broth
2 minced green onions
In a heavy skillet melt the butter then add onions and hot pepper and sauté until translucent (about 4 to 5 minutes.)
Add the garlic and thyme and continue to sauté for another minute. Add half the salt and combine.
Add the ground beef breaking up any clumps, and let cook until the meat is no longer pink. Season the beef with the curry powder,salt, black pepper, all spice and bay leaf. Mix in the ketchup and Worcestershire sauce. Add the beef broth and stir. Bring the mixture to a boil then reduce heat add let simmer until most of the liquid has evaporated (about 10 minutes) the sauce should be thick. Add the green onions at the last 5 mins of cooking.
Remove from heat and allow to cool while preparing the dough.
For the Dough
1 1/2 cups mozzarella cheese, shredded
2 tablespoons of cream cheese
1 cup almond flour
1 large egg
1/2 tsp of turmeric powder
1 tablespoon curry powder
1/4 cups of oat fiber (optional)
In a microwave safe bowl add the mozzarella cheese and cream cheese and microwave for 1 minute. Add an additional 30 seconds if still not softened. Mix the Almond four, curry powder and turmeric powder together. Combine with the cheese mixture than add beaten egg and combine. Spread between two parchment paper and form circle for a patty. Fill patties and seal with a folk. Bake at 350 degrees F for 25 mins.