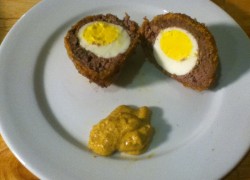 4 large eggs
1 lb sausage meat
2 tablespoon carb quik
1 cup crush pork rinds
1 tablespoon Worcester sauce
2 tablespoons grated  onion
tsp chopped fresh parsley
1/2 tsp sage
1/2 tsp garlic powder
1/4 tsp crushed red pepper
2 eggs
salt
pepper

Method
Bring saucepan with water to a boil, using a spoon, place each egg into boiling water. Allow the eggs to boil for ten minutes then place the eggs into a cold water bath. Peel each egg over running water and set aside. Season the sausage meat by adding the onions, worcestershire sauce, parsley, sage, garlic powder, red pepper, salt and pepper. Divide meat into 4 sections. Flatten each section and dip them into the carbquik mixture. Form the flattened meat patties around each egg. Dip each ball into the beaten egg then into the pork rind mixture. Place on a pyrex dish and bake at 400° for 30 minutes.