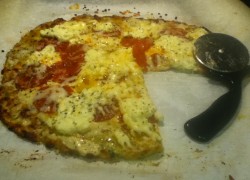 Not only is this pizza recipe easy to make and delicious it's also Atkins Induction Friendly! Enjoy!
3/4 mozzarella cheese
2 tablespoons grated Parmesan
2 cups of zucchini (grated)
2 tablespoon flax seed mill or carbquik
1 beaten egg
1 teaspoon Italian seasoning
1 tsp garlic powder
Topping
1 tsp olive oil
Pepperoni slices
1/2 cup of mozzarella cheese for the topping
1/2 cup of Bella vita low carb roasted garlic tomato sauce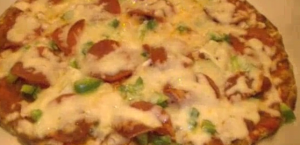 Shred Zucchini and lay on a paper towel to dry out excess water. Squeeze out the excess water with the paper towel.
Mix all ingredients together as shown in the video.
On a parchment paper spread out the zucchini mixture to form a circle pizza shape
Bake at 400 degrees for 15 minutes.
Remove from the oven and top with 1 tsp of olive oil.
Bake for 10 minutes at 400 degrees.
Remove from oven.
Lift and remove baking pan from the parchment paper and leave the pizza on the parchment paper to cool for 10 mins.
Top with your favorite toppings and return to the oven and bake at 400 degrees until cheese melts (about 5-6 minutes)