Okay, so I have a little secret that I have been keeping. It is a secret that is held by every Trinidad household.   It is the mysterious flavor that makes every Trinidadian dish stand out from the rest. So today I will share that secret with you.
That secret is that I add a special seasoning blend to just about all of my meat recipes. This special seasoning is green in color and is referred to simply as "Green Seasoning" and it is the secret to all Trinidadian cooking. If you happen to know a Trinidadian, just ask them about green seasoning and you will see there faces light up. They will be curious as to how you know the secret (lol).  Just about every home in Trinidad and Tobago has a bottle of this green seasoning in their refrigerator. Even though I now live in Florida, I still make a bottle of this stuff bi-weekly. It is truly a bottle of pure flavor!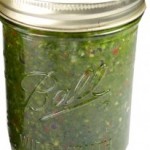 We use this green seasoning to marinate our meats and we even add it to the pot when cooking. Today I want to share this recipe with you. I don't know the carb count to this recipe but I imagine it to be quite low, since every herb and vegetable included in the recipe is green. It is NOT eaten raw! So please don't try it raw, ha ha!
The green seasoning will last for some time, you can freeze it in ice cubes and add a cube to your meats and stews and sauces.
Here is my family recipe for Trinidad green seasoning.
1 bundle of Cilantro
1 stalk celery
6 cloves garlic
2 green onions
1/2 bunch thyme
5 pimento peppers
1 inch garlic
1/4 cup water
1/4 cup white vinegar
1 green scotch bonnet pepper or 1 banana pepper
Peel and trim and wash all ingredients and let water drain off.
Blend all ingredients in a magic bullet or a food processor.
You can add to this mixture any of your favorite herbs or remove any that you  don't fancy. It up to you : )
So now that you know the secret remember 'Mum's the word'!