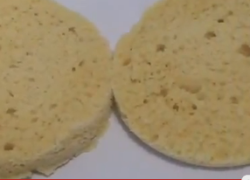 This coconut cream bread recipe has the texture of regular bread without the added carbs. It is great for sandwiches and I eat it quite often for breakfast. I toast this in a pan rather than a toaster because it is so delicate.
COCONUT CREAM BREAD
1 tablespoon coconut flour
1/2 teaspoon baking powder
1 teaspoon unflavored protein powder
1 tablespoons heavy cream
2 Tablespoons melted butter
1 egg, lightly beaten
In a bowl mix together the coconut flour, baking powder and the protein powder. Add the egg, melted butter and heavy cream. Mix the dry ingredients with the wet ingredients until the mixture looks creamy. Microwave for about 1 minute 30 seconds or until done. This makes a spongy soft bread.
3.5 Net carbs
Serves: 1
366 Calories