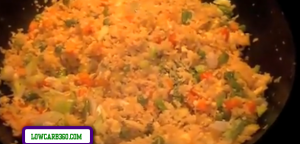 I love rice, and this was another reason why I was not sure about low carb, but guess what? I have discovered a great way to make the best low carb fried rice ever made, and of course I sharing the recipe with all my low carb friends. I know you guys will love this one! This low carb cauliflower rice is full of flavor and I guarantee you will not miss the regular high carb rice.
Ingredients:
1 Cauliflower head
1 small carrot
Great Value Brand sweet peas
2 oz Onions (chopped)
4 0z Red Pepper
2 Eggs (small)
2 Tablespoons Olive oil
4 Green Onions
Directions:
Add 1 tablespoon of olive oil to the pan.
Add the onions and coke for 2 minutes.
Add the Cauliflower.
Cook for 3 minutes.
Add the carrots and celery and mix.
Add the sweet peas and mix and cook for 1 minute longer.
Add the red pepper.
Push the cauliflower to the side of pan and add the egg and scramble (watch the video to see how this is done)
Mix with rice.
Add Soy Sauce
Add Sesame Oil
Add Salt to taste
Add the green onions
Serves 6
Enjoy!