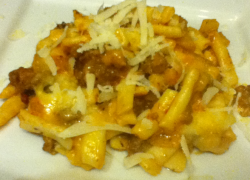 I love Shirataki Noodles! I am very excited to learn that they are now making them in different shapes. In this recipe I use the Macaroni style Shirataki noodles. This dish is simply delicious! Enjoy!
P.S You can purchase the noodles from the lowcarb360 store above, thank you: )
2 packages of tofu Shirataki macaroni
6 oz of Italian sausage meat
1/2 small onion
1/2 green bell pepper
1/2 teaspoon salt
1/2 teaspoon dried basil
1/2 teaspoon dried parsley
1/2 cups of tomato sauce
1/2 cup mild cheddar cheese
2 tablespoons ricotta cheese
1/2 cup shredded Mexican cheese (for topping)
Using a strainer, rinse and drain the noodles according to the package directions. Fill a stock put with water and bring to boil. Add the noodles and boil for 3 minutes then drain and set aside. In a frying pan cook the sausage for about 6 minutes. Drain off any excess oil. Add the onions and garlic and cook for 4 minutes. Add the pepper and cook for one minute more. Season the meat with the salt, parsley and basil. Add the tomato sauce and combine with the meat. Add the cheddar cheese and the ricotta cheese and combine with the meat. Remove from the heat. Add the cooked macaroni to the meat mixture and combine. Pour the mixture into a casserole dish and top with the Mexican cheese.
Serves 4
4.1 Carbs per serving.