This is my best burger recipe, and with the holiday coming, I could see no better time to share it with everyone. You will enjoy this one, Yum : )
4 slices bacon, chopped
1/2 medium onion chopped
1 1/2 lb ground beef
1/2 teaspoon Kosher salt
1/2 teaspoon paprika
1/4 teaspoon cayenne pepper
1/2 taspoon garlic powder
1/2 teaspoon onion powder
1 teaspoon ground cumin
1 tablespoon Worcestershire sauce
1 teaspoon liquid smoke ( hickory flavored)
1 cup Colby and Monterey Jack cheese- (I use Great Value brand)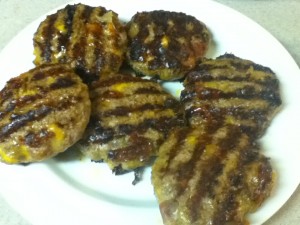 Cut the bacon into half inch pieces and allow to brown on a medium low heat for about 10 minutes. Remove the bacon and set aside. Add the chopped onions to bacon grease and allow to sweat for 4 minutes on medium low heat, then remove from the pan and set aside. Place the ground beef in a medium bowl. Season the beef with the salt, paprika, cayenne pepper, garlic powder, onion powder, cumin Worcestershire sauce and liquid smoke. Add the cooked bacon, cooked onion and cheese to the meat and combine. Grill the burgers until cooked. Enjoy!
Makes 6 Patties.
2.1 Net Carbs per serving
This grill is the best!