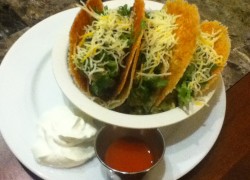 Honestly, these tacos are sooooo delicious! And totally Atkins Induction friendly. With the new year coming look for more Induction friendly recipes coming soon.
Shrimp Marinate
1lb large Shrimp
1/4 tsp garlic powder
1/2 tsp cumin
In a bowl mix shrimp with spices. Refrigerate for about 30 minutes to 1 hour.
1/2 green bell pepper (diced)
2 cloves garlic (minced)
1/2 half of a medium onion
1 jalapeno pepper (remove Seeds
1/2 tsp cumin
1 tablespoon taco seasoning
1 tsp tomato paste
1/2 maggie cube (vegetable stock)
11 0z or 313 grams red cabbage (shredded)
lemon Juice ( half lemon)
1lb tomato (peeled) and pureed in the food processor
1/4 water
1 tsp splenda
1 tablespoon tomato paste
2 table spoons olive oil
1 tablespoon olive oil
3 green onions chopped (for garnish)
1/2 cup sour cream
Method:
In the food processor mince the onion and jalapeno pepper together.
In a pot with 1 tablespoon oil, add the cabbage and cook for 3 min, then remove from pan and set aside.
Add the remaining oil and saute the jalapeno and the onion for about 5 minutes.
Add the bell peppers and the garlic. Cook for 2 minutes.
Add the Splenda then add the tomato paste, cook for 1 minute.
Add the lemon juice then add the tomatoes and maggie stock (vegetable stock).
Add the water and lower the  flame and cook for 10 minutes covered.
Add the shrimp  and cover and cook for about 8-10
minutes or until shrimp is cooked.
Season with salt and pepper to taste.
To serve, spoon cabbage into the low carb taco shells then add the shrimp mixture, sour cream and top with green onions!