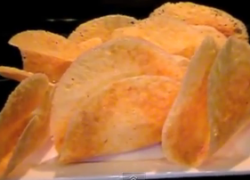 1lb Provolone cheese.
In this recipe I used 1lb of deli sliced cheese. I ask for it to be sliced using the .5 blade at the deli counter
Please see the video to see how these low carb taco shells are made.
Please only use Parchment paper to lay the cheese on in this recipe : )
Please leave any questions you may have in the comments below, I am happy to answer them.
*Microwave time varies. I Microwaved them for 55 seconds.