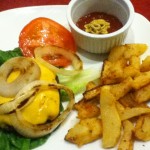 Photo taken at yesterday's dinner with my Best Burger Ever Recipe.
I love celery root fries, however the problem with celery root fries is that celery root is not always so readily available.  Whenever I want to make celery root fries, I have to drive to my nearest Whole Foods Market, which is a bit of a hike from my house.
On the other hand, turnips are always available at my local supermarket. After many failed attempts to get turnips to taste more like french fries, I think I have finally got it.  So, I am proud to present to you the best turnip french fry recipe! Now please keep in mind that turnips do have a slightly sweet taste, but nothing that a little ketchup won't cover.
So how many carbs do turnips have? Here's is what I have found.
1 large Turnip has         8.47 Net Carbs
1 Medium Turnip has  5.64 Net Carbs
1 Small Turnip has     2.82 Net Carbs
The carb count for this recipe will depend greatly on the size of turnip you are using.
——————————————————————————————
Here are the Ingredients for these turnip fries
4 Medium Turnips
1 teaspoon of better than bouillon or (1/4 cube of chicken stock cube of your choice)
1/2 teaspoon of cajun seasoning
2 tablespoons olive oil
1/4 cup of Parmesan cheese
Serves 4
5.6 Net Carbs Per Serving